Brad and I traveled up to El Masnou Wednesday afternoon for a BBQ at Ruben's place. Large portions of steak and Spanish were served. This was the first week I felt almost comfortable conversing in Spanish. Ruben is kind enough to speak a simple Spanish that I can understand. I've reached that awkward phase, though, where I can ask a clerk questions well enough that I get answers in full-speed-ahead Spanish. My first impulse still is to revert to English.
Anyway, Brad, Ruben, and I walked from El Masnou down the coast towards Barcelona to Montgat Nord. The coast is so beautiful, even a photo from the train station is spectacular.
I remain hesitant to travel much. Looking at how things are going in the EU, though, maybe it would be better to travel outside Spain. As a rule of thumb, 100 cases per 100,000 residents per week is about the limit before lockdowns become necessary to contain community transmission.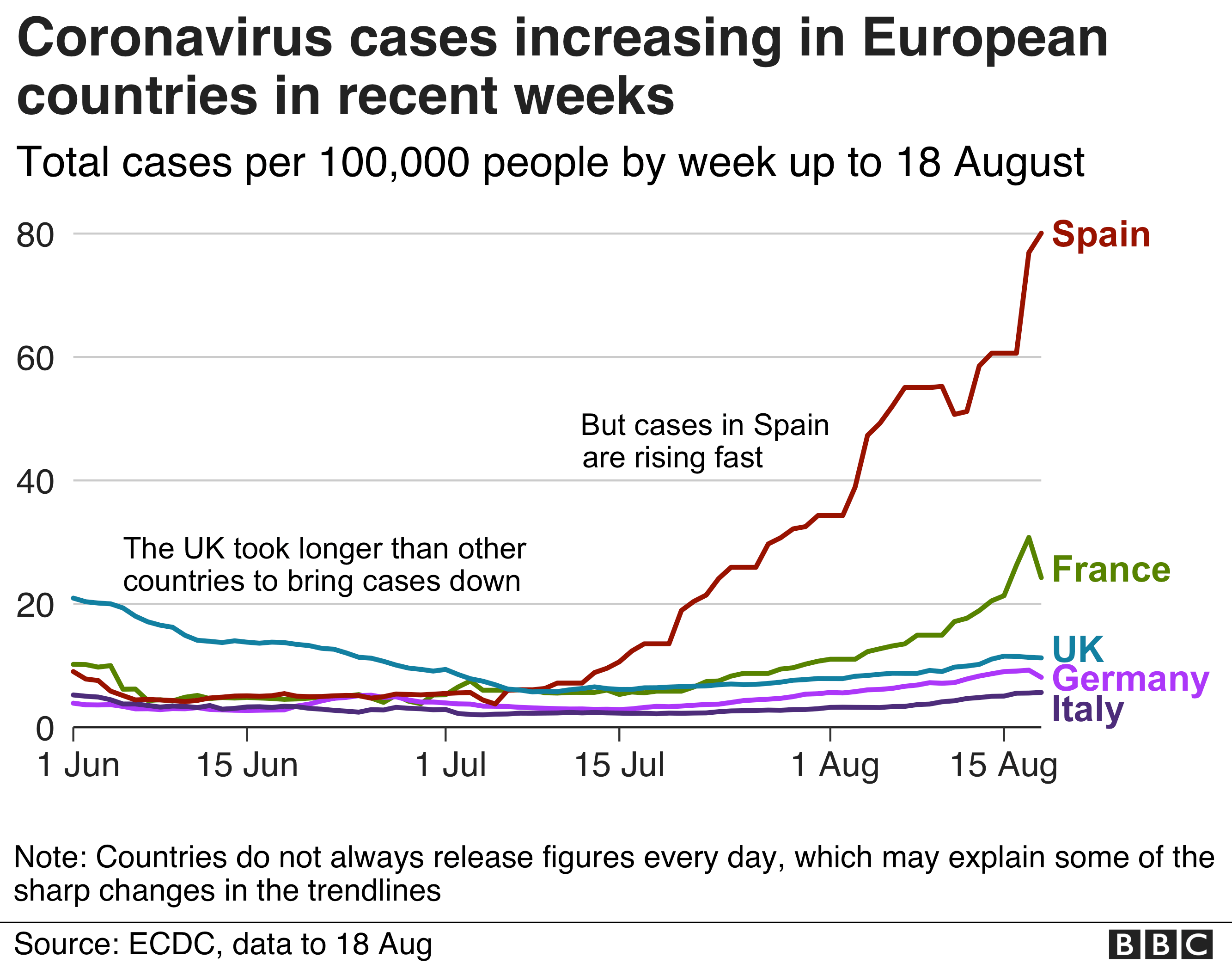 In Spain, new cases in most regions have leveled off. Here in Catalonia, cases have leveled off for now at about 1,000 new Covid-19 cases per day.
The increase in Spanish Covid-19 case growth is concentrated in a few regions. The Madrid region, for example, accounts for a third of new Covid-19 cases in Spain. Its government has recommended residents stay home until Covid-19 infection levels drop. Madrid is the one place I know of in Spain that's protesting masks.
In anticipation of a Madrid lockdown, Apple already has closed its retail store there. Parenthetically, Brad tried to visit the Apple store in Barcelona when we were at Plaça de Catalunya. Unlike Madrid, the Apple store here is open, but requires an appointment.
Unfortunately, bad behavior in a few Spanish regions is stifling tourist traffic in all regions. Tourists are headed to Italy, Croatia, and other destinations with lower Covid-19 positivity rates.
It's always good to compare your performance to other to understand how you might improve.
The US passed 175,000 Covid-19 deaths last week. At the current rate of 1,200 Covid-19 deaths per day, it should reach 250,000 deaths by the election. Assuming, of course, there is an election. That will place the US first in the world not only for total Covid-19 deaths, but also for Covid-19 deaths per capita.
Trump continues his disastrous Covid-19 response with reductions in FDA oversight of Covid-19 testing and complaints that deep state actors at the FDA are slowing Covid-19 vaccine testing. He looks ready to promote oleandrin, another quack Covid-19 cure promoted by a major Trump donor.
The Trump administration presses for primary schools and universities to open, even as Covid-19 outbreaks at these schools increase cases. Here's a good example of how things are going.
Places with low Covid-19 positivity like Denmark and Rhode Island have opened schools safely after putting in place Covid-19 protocols. Most of the US needs to reduce positivity before opening schools. Instead, Trump's push to open schools is exacerbating existing Covid-19 hot spots as young asymptomatic students transmit the virus throughout their communities.
Derek Lowe's write up of the Pfizer Phase 1 Covid-19 vaccine trial frames the state of the vaccine pipeline. It looks like vaccine candidates are doing the right kinds of things and they appear to be safe, but we won't know any of that for sure until at least a few months into Phase 3 trials and maybe not for another year.
Several new vaccination questions are emerging. For instance, if a Covid-19 vaccine is 50% effective (the low bar set by the FDA for approval), will asymptomatic cases increase transmission as half the vaccinated population who believes they can carry on normally finds out their injections didn't work. Also, should we prioritize vaccination of younger populations more prone to asymptomatic transmission because it's easy to detect cases in older populations? It still seems to me like cheap and frequent Covid-19 testing will be part of life long after Covid-19 vaccines come to market.
Even with all the vaccines coming to market in the coming 3-9 months, WHO warns that life will not go back to normal anytime soon. Dr. Fa.uci discusses life after a vaccine at the 8:30 mark in this video.
There is still plenty we don't know about Covid-19, like why some people are asymptomatic. Here's an excellent thread on that topic.
Another emerging concern is so-called Covid-19 long-haulers. Covid-19 long-haulers are organizing online the way people with other chronic diseases like Chronic Fatigue Syndrome and FSH have. This is the first step in publicizing the condition and developing treatments.
A few Covid-19 tidbits from last week.
Last, but not least, if your friends are having trouble with the concept of wearing masks, send them links to some of the great Covid-19 mask PSAs from Australia.
Why do the Aussie always make these things so fun? Masks, I mean.